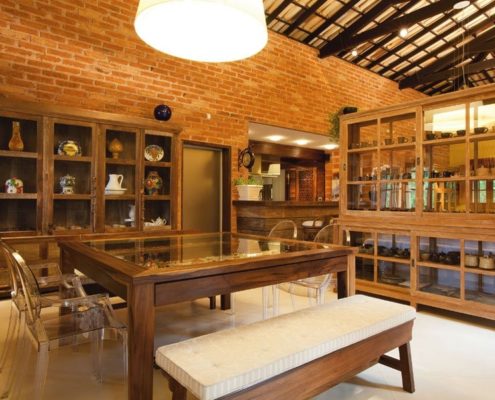 When we build a house or do its remodeling, the decoration must always be thought from the beginning of the work. In the case of the traditional/classic houses, it is not only the architecture that matters, being fundamental complement it with rustic furniture and other accessories capable of creating the desired environment. A rustic house should be comfortable and functional, providing us with moments of peace and relaxation and being therefore the right choice for holidays or permanent housing. Our home says a lot about us, and the decoration is a reflection of our personality materialized in our daily space.
Decorating homes is a difficult task. Therefore, so that you do not have problems in both the construction and the decoration, you must be attentive to all the details, always trying to find ideas of original decoration, to be not just another house, like so many others. The easiest way to get things done is through a professional decorator, however, the good decorators are very expensive and not all of us are able to afford that much money. So, with a little research and creativity, we can achieve the same result and still learn a little about it.
Here we will give you some tips and ideas to make your work easier, either on the construction or remodeling of the house, or on its decoration, after the works are completed. Important factors in choosing the right decoration are: colors, furniture, decorative elements, lighting etc. Everything must be according to the architecture of the house and what you want the final result to be. It is also very important to choose the building materials to be used: flooring, roofing, coatings, etc.
When it's time to furnish the house, you have two options: use old furniture, well maintained or restored, or opt for new furniture, rustic type. The first option has the advantage of buying genuine furniture and with them a bit of history. In country houses, the decoration must be in accordance with the surrounding environment: materials and decoration must be related to the environment that surrounds the house.
Lighting is also very important to create pleasant environments. The rustic decoration allows a great variety of choice in lamps and lighting fixtures, providing a pleasant sensation to those who are in the illuminated space. Lamps can take many forms, but always idealize a lamp made from traditional materials such as fabric, iron, wood or terracotta.
To keep the rustic decorative spirit, the rooms should be decorated with wood or possibly wrought iron. The natural fabrics also fit very well in this type of decoration. The curtains of the typical houses do not have to be extravagant, they must be made from simple fabrics and rods, in order to achieve an elegant and contextualized effect. Curtains can take on many shapes and colors, what determines the choice is your personal taste. Blankets, carpets and parquet in the bedrooms are brand image in rustic homes. Armchairs and foot rest provide added comfort.
It is possible to use an old chest of drawers to create a lavatory furniture, removing the top and placing a top made of wood, natural stone or even glass. It is at your discretion. The use of old wheels to create a coffee table is an original idea and perfectly framed in the concept of rustic decoration. Using a wooden foot and glass top, the result is very good.
The fireplaces are one of the hallmarks of the rustic houses, being a "Salamandra" also a good solution. The ideal is to have sofas or puf's near by, because the greater the comfort near the fireplace, the more time you want to spend next to it. Wicker chair cushions are a good comfort solution: you can use fabrics of various colors. Always keep a small space for firewood. The comfort provided by a natural fireplace appeals to long hours of conversation into the night on the cold winter days.
A traditional kitchen can provide all the comfort of a modern kitchen, you just need to have the right utensils. The kitchen countertops take on a new dimension in this type of decoration and you will often see many utensils hanging along the walls. The mugs hung inside and under the hanging furniture make the decor even more rustic. Creating a kitchen countertop in this type of home is easy, just idealize and build with materials within the context: you can play with tall benches to create a pleasant space to drink something or even to be with the closest friends, taking some time together while enjoying your home.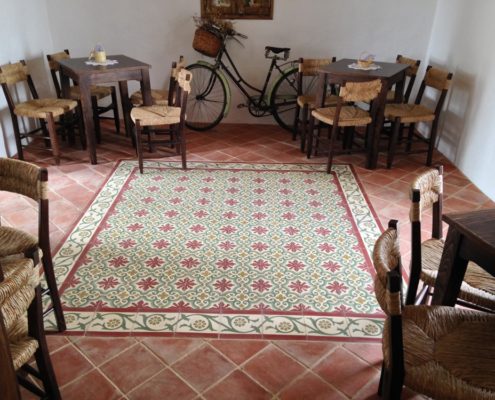 The particularity of the decoration is to use everything that surrounds us: Sometimes are the simplest pieces that stand out. Here are some creative solutions with good effects: Baskets, kites, benches and wooden hangers are easy to get and undoubtedly give charm to a home's décor.
The rustic decor can be a source of inspiration for even the most modern buildings. Decorating a rustic house, besides being fun, helps us to get closer to our origins. These homes are ideal for those looking for freshness in the summer and warmth in winter: the houses made of stone and terracotta have this particularity.
The steps can be adorned with tapestries or carpet lining, great for those who love to walk barefoot around the house. Do not worry if your youngest son walks barefoot, with carpets it is unlikely he will constipate. On surfaces that are too polished, it is advisable to place anti-slip mats, so there is no risk of the carpet slip underneath your feet.
Another interesting components of a rustic house is the garden, because few are the city houses with a garden in harmony with nature. Use wooden benches, hang a swing in a tree, make benches in stone or use tree trunks to create benches and chairs, etc. Even the most uneven woods come to life after being treated.
In short, use everything that is around you and remember that a rustic house is all that a town house can't be.